Great Heights Roof Repair in Houston
As a homeowner, you know that roof repair in Houston is an inevitable part of home ownership. Like most, you may slightly cringe at the thought of how much fixing a leaky roof costs. Luckily, most roofing repair in Houston can be quite affordable especially when compared to replacing the entire roof. You can save yourself a ton of money an headaches by using Great Heights for a professional roofer in Houston to take care of any roof damage. We serve all of Houston and throughout Harris County and the surrounding areas.
Whether you have pooling water, water stains, or any other roofing problems in Houston, Great Heights can help. We have an excellent reputation and have thousands of satisfied customers.
If you are looking for roof leak repair in Houston, read below as to what you should do, what some costs may be as well as the different types of roofs that benefit from a repair rather than a full replacement.
What To Do When You Get a Roof Leak in Houston
If you spot a leak in any part of your roof, you will need to have a professional examine it to determine the severity of the leak. While it may be tempting to fix the leak by looking up DIY methods, we highly recommend that you seek a qualified Houston roofing contractor who can walk you through the steps that need to be done.
When Houston roofing repair is needed, a trained professional will go around the roof to spot any signs of wear and damage. They will take a look at the flashing and shingles to determine if any of them need to be fully replaced or if a simple repair is all that is needed. Remember, your roof is exposed to the elements of wind, sun, rain and more 24 hours a day and it takes its toll.
Call for a Roof Repair Costs in Houston, TX
(877) 548-2297
Types of Roofing Repair in Houston, TX
Asphalt, Stone or Wood Shingle Repair in Houston
Shingles are the most common type of roofing material that usually requires one or two pieces to be replaced in Houston if any damage has been done during a storm or unusually high winds. Shingles can also be damaged if someone step on them incorrectly or if nails have been installed too tightly, they may cause tiles to pop up leaving the underlayment exposed. Wood shingles in particular are prone to deteriorate in time or attract insects or other animals who may damage the wood.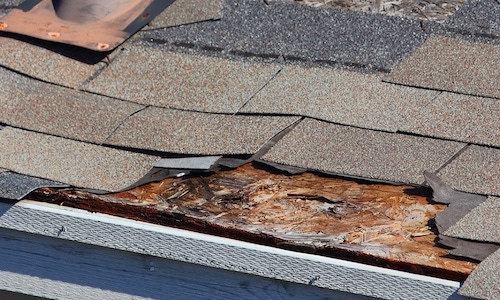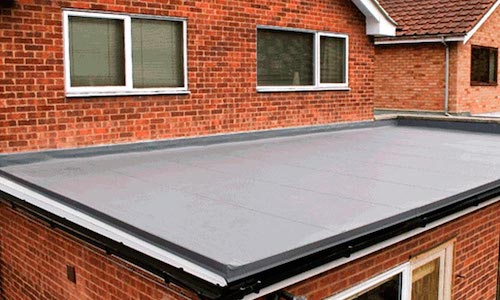 Flat roof repair in Houston:
Typically, the biggest problem with a flat roof is that water tends to pool on parts of the roof. This causes the flat roof to sag or for the under laying material to deteriorate overtime which can cause leaks.
Metal roof repair in Houston
With the longest lifespan and strongest materials you rarely need metal roof repair in Houston. However, damage to fasteners or loose seams do happen, but they can be addressed quite quickly by a professional.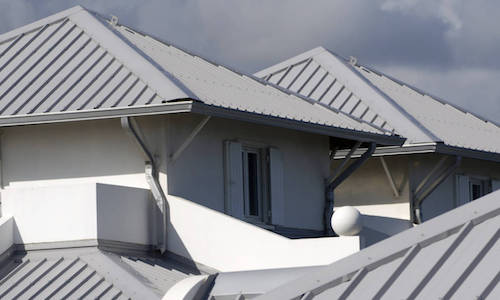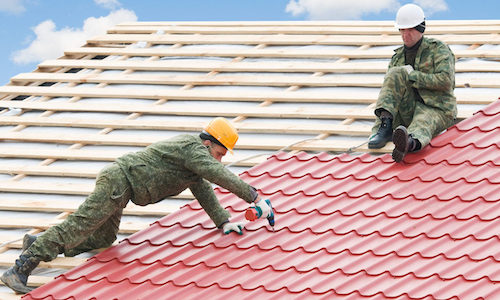 Full roof replacement in Houston:
Roofs can be really expensive to fully replace. Because of this, we recommend that you have a licensed roofing professional provide you with alternatives that include roofing repair so that you can extend the life of your current roof. We will recommend the easy fix if it's the best option, but if you have an older roof, it might be a better idea to remove and replace it.
Call Now for Affordable Roofing Repairs in Houston, TX
(877) 548-2297
How Much Does Roof Repair Cost in Houston?
While the price can be determined mostly by what type of material your roof is made from, the average costs are far less than a full roof replacement.
Minor roof repairs in Houston cost $120-$450 (cracked tile, broken or missing shingles, etc.)
Moderate roof repairs in Houston cost $450-$1,200 (small isolated water leak, damage from a strong storm)
Major roof repairs in Houston cost $1,200-$2,500 (if multiple sections of your roof are leaking or there is significant wear from aging)
How To Get The Best Roof Repair Company in Houston
Once you realize you have a leaky roof, we highly recommend you do some research and find a reputable, experienced and knowledgeable roof repair company in Houston to check it out right away.
While it may be cheaper to use a general handyman who states they know how to repair a roof in Houston, they may miss important steps and end up causing more damage to the roof in the long run. This in turn will end up needing to be fixed down the line again and you will end up having to pay double the amount.
Look for the following qualities before choosing a professional.
Qualifications: There are training and certifications for roofing professionals to ensure they provide the best possible care to homeowners. Ask what kind of experience and training they have had. Also see if they are part of NRCA (National Roofing Contractors Association).
Warranty: Do they offer a warranty on their repair or replacements? If so, how long is their work warranted for?
Experience: How long have they been in business? Is roofing all that they have done or is it just something they do on the side? The more experience they have, the better they will be in being able to diagnose the issue and provide appropriate repairs.
Referrals/Reviews: If possible, get as many referrals that you can from the roofing professional before you choose one.
Need to Repair a Roof in Houston, TX? Call Now:
(877) 548-2297
We Provide Roof Repair Service to All Houston Neighborhoods Including:

Bellaire
Downtown
East End
Far North
Far Northeast
Galleria-Uptown
Greater Heights
Greater Memorial
Medical
Meyerland
Midtown
Montrose
North
Northeast
Northwest
Pasadina
Rice
Rice Military
River Oaks
Southeast
Southwest
Spring Branch
Sugarland
West Houston
West University
Westchase

We Also Service:

Bellaire, TX
Brookside Village, TX
Bunker Hill Village, TX
Galena Park, TX
Hedwig Village, TX
Houston, TX
Hunters Creek Village, TX
Jacinto City, TX
Jersey Village, TX
Meadows Place, TX
Missouri City, TX
Pasadena, TX
Piney Point Village, TX
South Houston, TX
Southside Place, TX
Stafford, TX
West University Place, TX
77001
77002
77003
77004
77005
77006
77007
77008
77009
77010
77011
77012
77013
77015
77016
77017
77018
77019
77020
77021
77022
77023
77024
77025
77026
77027
77028
77029
77030
77031
77032
77033
77035
77036
77037
77038
77039
77040
77041
77042
77043
77045
77046
77047
77048
77050
77051
77052
77053
77054
77055
77056
77057
77060
77061
77063
77064
77066
77067
77071
77072
77074
77075
77076
77077
77078
77079
77080
77081
77082
77085
77086
77087
77088
77091
77092
77093
77096
77098
77099
77201
77202
77203
77204
77206
77207
77208
77210
77212
77213
77215
77216
77217
77219
77220
77221
77222
77223
77224
77225
77226
77227
77228
77229
77230
77231
77233
77234
77235
77236
77237
77238
77240
77241
77242
77243
77244
77245
77248
77249
77251
77252
77253
77254
77255
77256
77257
77258
77259
77261
77262
77263
77265
77266
77267
77268
77269
77270
77271
77272
77273
77274
77275
77277
77279
77280
77282
77284
77287
77288
77289
77290
77291
77292
77293
77297
77299
77315
77396
77401
77402
77411
77477
77489
77497
77501
77502
77503
77504
77506
77508
77547
77587
Great Heights Roof Repair
920 Studemont St
Houston, TX 77007
P: (877) 548-2297